The Secretary of State granted a Development Consent Order (DCO) for the offshore array on 11 July 2013.
The offshore array encompasses the wind farm site itself, and includes:
up to 288 wind turbines and their foundations
up to five meteorological masts for wind data collection
up to eight offshore substations, four of which would only be required if the project was constructed using direct current (DC) technology (DC technology has subsequently been ruled out in favour of alternating current (AC) technology following work undertaken on the Electrical System)
'inter-array' cables linking the wind turbines and the offshore substations
a mobile facility for operations and maintenance staff and equipment such as a vessel or jack up barge
Night time turbine foundation installation works offshore.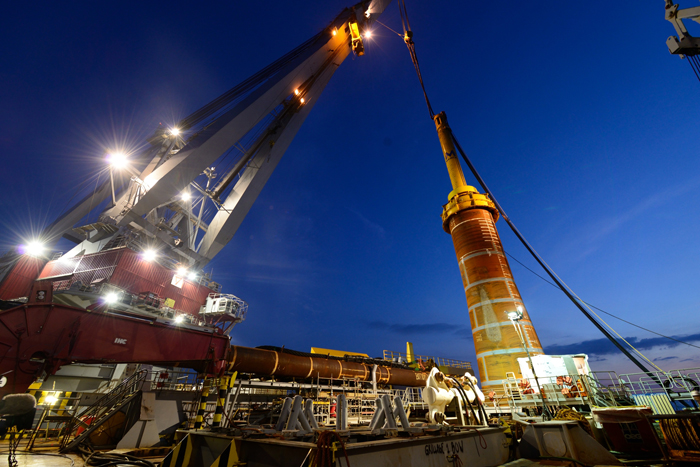 Find out more about: The Offshore Array Development Consent Order
The consent application for the offshore array was submitted to the Infrastructure Planning Commission, later replaced by the Planning Inspectorate (PINS) in August 2012, and included an Environmental Statement containing the results of the project's Environmental Impact Assessment.
Application documents, details of the examination, the PINS recommendation report, the Secretary of State's decision and the Development Consent Order can be found on the National Infrastructure Planning website.
Review of the offshore array
Following detailed technical and commercial optimisation studies undertaken by Triton Knoll, together with the Crown Estate, in January 2014 it was decided to reduce the overall generating capacity of the scheme to a maximum of 900MW. This is considered to make better use of the site within the Triton Knoll offshore wind farm array's consented boundary.
The offshore components
The wind turbines being considered could have:
a maximum blade tip height of 220 metres
a maximum rotor diameter of 180 metres
a maximum tower diameter of 8 metres
a lowest blade tip height of not less than 27.4 metres
The foundation options being considered are:
Monopiles: a single pile positioned into the seabed to support the turbine
Multipiles: several smaller piles that are secured into the seabed to support the turbine, e.g. jacket foundations
Gravity bases: a heavy, wide base that sits on the seabed and is held in place by its own weight or by suction
Suction caisson: similar to, but generally smaller than a gravity base, the caisson penetrates slightly into the sea bed
Similar foundations are also being considered to support the offshore substations.